Speak to the investor and the investor will respond.
The SBA estimates that the typical entrepreneur spends approximately 400 hours writing a business plan—time better spent working on your business or fine-tuning your startup concept. Hiring business plan writers with the backing of a full-service consulting firm like Brass Ring Consulting Group will save you considerable time and money.
We Write Award-Winning Business Plans
We write proven effective, rock-solid business plans, pitch decks and PPM documents to secure loans, attract angel investors and venture capital/private equity funding, or meet visa requirements. A business plan can also serve as a valuable roadmap for your growing business. We drive results affordably and with a fast turnaround. Put our expertise to work for you.
What sets us apart?
What sets us apart from the typical "business plan factory" is our pedigree. At Brass Ring Consulting Group we're much more than graduates of top-notch Business Schools or skilled writers—we're seasoned entrepreneurs.
Yes, we've won awards for our plans, including Top Business Plan from the top-rated Entrepreneurship program at the USC Marshall School of Business. But we also know what it means to be in business and not just write about it. We have first-hand experience working with small and large businesses alike, and ventures ranging from oil & gas to entertainment, technology to consumer products, restaurants to craft breweries and much more.
The result? We're proud to say that 100% of our business plans have received funding when put in front of investors.
What makes a great business plan?
A solid business plan is truly a complex document that needs to not only convey your "great idea" and your enthusiasm as a business owner, but do so in a way that clearly shows you have a firm grasp of the many disciplines that make up a successful business—from building a great management team, to Marketing and Sales, to Operations and Finance. That's where Brass Ring Consulting Group can lend our decades of real-world, holistic experience across these business disciplines to deliver what others can't.
It's important to understand what goes into a winning business plan. Read more about how to write a business plan that effectively raises money from investors.
What is a "PPM" and do I need one?
When seeking equity investment funding, also having a PPM (Private Placement Memorandum) and accompanying disclosure documents is ESSENTIAL to protecting both you and your investors. The last thing any business owner needs is for an investor to claim you "misled" them and sue for their money back; it's also the last thing any other investors—or potential investors—want to see as well!
Writing a business plan? We make your life easier.
Entrepreneurs are—and should be—close to their business, but many have a difficult time communicating their great idea or business model to investors or the professionals they hire to evaluate investment opportunities. After 25+ years of writing award-winning Business Plans and PPMs, we know what it takes to get funding regardless of the state of the economy. What are the investor turn-ons? What are the red flags? What's realistic and what's unfounded blue sky? We know.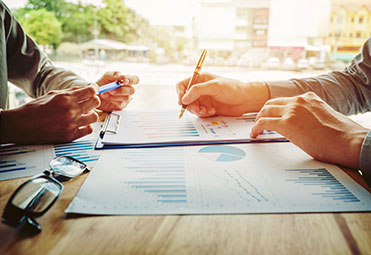 Every project is unique, and we tailor our approach around what's best for your timeline, requirements, and your budget.  But in general, we like to approach each project with these four steps…
Phase 1
Understanding Your Business / Product
After we've executed a confidentiality agreement, our first mission is to understand your business or product in as much depth as possible within the scope of our engagement. Regardless of the area of focus, we take a holistic approach. It's imperative that our work aligns with your business objectives, so the initial meetings are dedicated to bringing together various stakeholders to understand your big-picture plans.
New Clients: take the first step with a free 60 minute consultation session!
Phase 2
Scope and Project Plan
Armed with a holistic view of your business or product, Phase 2 involves defining the scope of our engagement and the project plan / timeline for the work to be completed. We'll conform to your project management style, whether "Agile" or "Waterfall" or some hybrid approach, so you know what to expect — and when to expect it.
Phase 3
Performance
As we perform our work for you, expect lots of communication. We'll set up regular touch-base meetings so you have full visibility on the project as it progresses and evolves. Particularly if you wish to work with an "Agile"-style project management methodology, you'll have opportunities along the way to reshape the project on the way to completion.
Phase 4
Retrospective
Upon completion of the project, you'll receive all working materials. We'll walk you through all of it with a retrospective meeting, so we leave no loose ends. Since your business is ever evolving, the "retro" meeting may also uncover new, previously unrecognized opportunities for business growth and might lead to further engagements.
Our business plans raise money!
Net yet a client? Get a FREE, no-strings-attached consultation.