In this article we dive into what goes into SEO, its place in a broader marketing plan, the types of businesses it makes sense for, and potential drawbacks to relying on SEO.
How Does SEO Work?
SEO leads people to discover your website in an "organic" way through search engine results pages ("SERPs"), in contrast to paid advertising to get people to your website. You may be surprised at how much effort goes into good SEO.
Relevance and authority are key factors to ranking your website pages in search results. There are many indicators of relevance and authority, some of which you can actually control—this is what SEO marketing services do for you.
There are other factors not within your control, such as the length of time your website has been in existence, but the impact of those factors can be reduced by quality SEO work. (Tip for new businesses: set-up your website as a "coming soon" page with the Google Analytics code; do this up-front while you're getting your full content together.)
It's important to understand that SEO takes time and the work needs to be consistently applied, but in terms of long-term return on investment, it's one of the best forms of marketing.
SEO and Content Marketing
SEO and Content Marketing go hand-in-hand as parts of a comprehensive marketing plan for many businesses. (Not ALL businesses, however. We'll get to that later.)
Content Marketing is all about sharing useful, informative blog posts, whitepapers, case studies, e-books, videos etc. It forms the foundation of the "inbound marketing" approach.
As another form of "inbound marketing," SEO relies on the existence of authoritative, well-written content. SEO takes Content Marketing to a more technical level. The aim is to restructure and reformat the output of a Content Marketing strategy into bite-sized "search engine friendly" chunks of information related to things people search for. This is called "optimizing for keywords."
What Are Keywords?
At the root of every user search is a "keyword," and a primary aim of SEO is to show search engines that you have relevant, authoritative content related to that keyword.
For example, "law firms" is a keyword. This keyword doesn't indicate any particular intent—like the user's need to review a legal agreement or file a patent. We simply don't know exactly what the user is looking for. But over 12,100 people type "law firms" into the Google search bar every month.
This type of broad keyword suggests the person making the search is starting their research: they're at the very early stages of the "sales funnel." This article provides a brief overview of the "sales funnel.")
Now, suppose you're a law firm and you've adopted the funnel example used in the link above. We might consider guiding someone who searched "law firms" to content suitable for the "Awareness" stage at the very top of the funnel—for example, content that talks about our law firm's areas of specialization.
However, someone who searches for "patent lawyer Los Angeles" indicates an interest in the subject of patent law, if not actual intent to make a filing. It also includes a geographic preference. That's some good information we can gather about this person just from the keyword they used.
These types of more specific keywords are sometimes called "long-tail keywords." They typically don't have anywhere near the volume of searches as the broad keywords (this one gets searched for 320 times each month), but there is sometimes less competition for their traffic and they can be even more valuable than the broader keywords in some cases.
Some long-tail keywords have a significant number of related keywords that you can get traffic from as well, making-up for some of the low search volume.
Most importantly, the type of visitor you acquire from long-tail keywords is more valuable since they're already further along the path to transacting; they're "deeper in the funnel."
In cases like this, we wouldn't want to guide this visitor to an "About Us" website page that talks about all the areas of law we specialize in. Instead we would direct them to a page that talks about our expertise in patent law, or a blog article that lays out the many considerations involved in filing a patent—showcasing what brilliant experts we are and leading the visitor to conclude that it's best to just hire our law firm to handle it!
Optimizing The Website Around Keywords
So how do we go about "optimizing" our website to convince Google that we're experts in our field and thus rank our page toward the top of the search results?
First, some research needs to be done to determine which keywords and their variations will yield the best traffic volume—and the right kind of traffic—yet also have a lower degree of competition.
Most high-volume keywords are highly coveted, meaning it will be more difficult for you to reach page 1 of search results for that keyword (and over 90% of clicks occur on page 1).
While other relevant keywords (usually long-tail keywords) may not have the same search volume, there is value in optimizing for them and you can secure good ranking with less effort and time. Remember, long-tail traffic is usually further along on the purchase journey.
Once the right keywords have been selected for your SEO campaign, there are three ways the campaign is executed—read on for more.
3 Aspects of SEO
Search engines send "web bots" to crawl your website pages in the effort to understand what you're about. SEO involves three areas of activity that aim to ensure the "bots" don't misunderstand you and to help them classify your content as relevant and authoritative: (1) on-page SEO, (2) technical SEO and (3) link-building.
(1) On-Page SEO
Crafting the content of your website pages to indicate relevance around specific keywords. This is done in several ways:
Use your keyword (or variations of it) in header tags (H1, H2, or H3 HTML tags), page title, URL, image "alt tags", image file name, and page meta description. Also, include it in the meta keyword tag! While Google doesn't pay attention to it, Bing and Yahoo do (and that's a 35% share of search traffic).
Position your most compelling copy as close to the top of the page as possible; keeping readers engaged and avoiding the browser "back button" is an important factor
Include "structured data" (schema.org markup) to help the search engine more easily digest your content
Include external links to reputable, relevant websites
Include internal links to other relevant pages on your website
Use the keyword as anchor text in a link on the page
Bold, italicize or underline your exact keyword
Optimize keyword density by using the exact keyword only 2-4 times on the page
Have over 2,000 words on the page (ideally), with images
When appropriate, optimize content for Google featured snippets (particularly for long-tail keywords that ask a question)
Maintain a text-to-HTML ratio > 25%. Here's a handy tool: Code to text ratio checker.
HTML free of errors and passes W3C validation, with no broken links; also, make sure there is no invalid JavaScript
Web pages should meet standards of "accessibility" for use by people with disabilities
Indicate "canonicalization" of your content ("THIS page is the original source of the content.")
It goes without saying, but well-written, easy-to-read content is important
(2) Technical SEO
Optimizing server-level elements and website architecture to be "SEO friendly", for example:
Ensure fast page loading times—use a CDN; force browser caching for JavaScript, CSS, image, video and audio files; use file compression; optimize JavaScript and CSS
Optimize your web pages for mobile devices
URLs should not use underscores and should be close to the top-level of the domain
An XML sitemap should be accessible at the root level of the domain
Redirects should be in place, at least for 404 errors (page not found) and 301 redirects (page URLs that no longer exist that redirect to newer relevant pages)
A "robots.txt" file should be in place to enforce rules for search bots (you can exclude certain bots, and exclude certain pages from being crawled, etc.)
Make sure search engines are recognizing the site and crawling its pages
Site should be accessible via HTTPS (install an SSL certificate)
Although probably not a factor in ranking, if the domain is set to expire within a year it's nevertheless a good idea to extend it
(3) Link-building
Establishing your page's authority by acquiring links back to it from other reputable websites. These are called "backlinks."
Domains and website pages have "authority scores" which indicate their level of prominence in the eyes of search engines. Older reputable and well-trafficked domains will have a higher authority score than newer domains.
Outbound links on high-authority websites pass some degree of authority to the page being linked to. As an example, consider the value of a letter of recommendation from the CEO of a company over the value of such a letter from an entry-level employee. The same principle applies to backlinks—the more authoritative the website, the more value its links carry. One important function of an SEO campaign is to secure backlinks from websites having varying degrees of authority.
Backlinks from higher-authority websites are generally more difficult to obtain, but not always. For example, some high-authority websites may accept a guest blog article from you which will provide a valuable backlink. Essentially, it comes down to creating content that people want to share.
Regardless of the authority score of the website providing you with a backlink, any backlink from a reputable website is valuable with one major exception: there must be context for the backlink. If a reputable website that focuses on financial services links back to a page on your plumbing business website, that's NOT in context and is considered irrelevant and "spammy." At worst, these links are harmful to your ranking; at best, they're just ignored by search engines (this seems to be the case with Google in recent times).
Although less common today, a company's competitors can attempt to sabotage its SEO by creating spammy backlinks to the company's website. In order to avoid the negative effects of these links, as a best-practice a company should periodically monitor its backlinks and use Google's disavow tool to inform Google of any "spammy" links. (Use Google Webmaster Services.)
When other websites link back to your pages, it's usually done with a link that appears as text. For example:

The text "your new business" is the anchor text to a link that lies behind it that goes to an article on another authoritative website.
If all anchor text is exact-matching your keyword, search engines like Google will perceive this as trying to manipulate the system and will penalize your SEO ranking. There should be good variety in the anchor text used for backlinks.
For example, your keyword might be "patent lawyer Los Angeles", but backlinks should be a natural-looking mix of:
"patent lawyer Los Angeles"
"patent lawyer in LA"
"Los Angeles patent law firm"
"patent attorney" etc.
There are several services/agencies that sell "guest post" backlinking services, but serious caution is advised! Most of the time these links being sold to you are not on real, reputable websites. Instead, many companies disguise these sites as legitimate blog sites, but in reality they are "PBN" sites ("Private Blog Network") which pose serious risks to your success.
Unnatural link building tactics like these are considered "black hat SEO" and violate Google's Webmaster Guidelines. Having links like these may even result in Google removing your website from their search engine. Buyer beware!
Sure, these companies will claim they only perform "manual outreach" to real bloggers to secure backlinks for their clients, but it is impossible for you to know for sure, and there are tools you can use to confirm your suspicions:
Use www.similarweb.com to get a sense of the type of traffic the "blog" site obtains. If you see that most or the traffic is "direct" or "link" traffic (instead of "search" traffic), that's a strong sign this site is not a legitimate blog site and instead just a PBN.
Use Wayback Machine to see historical snapshots of the site. Sites with high "page rank" have been around for a while. But if you see a site significantly change in its overall purpose (for example, it was once an online store and now just a general purpose blog site) you might assume it was taken-over by an unscrupulous SEO company that's now leveraging the site's historical presence for link-selling purposes. Again, this is not a real, natural backlink.
While several companies sell these backlinks for anywhere from $50 to $800 (depending on the "page rank" of the linking site), the reality is that securing backlinks in a TRULY LEGITIMATE way is a time consuming, resource-intensive activity that can cost more. The most effective and safe way to obtain a backlink is with your own valuable content posted on legitimate, authoritative external websites.
Local SEO
As you've no doubt figured out from the examples above, SEO keywords can be "localized"—like "patent lawyer Los Angeles" instead of "patent lawyer". Indeed, having your business show-up as local to the person searching Google is an important way to attract business.
In fact, SEO authority Moz surveyed marketers for their "State of Local SEO Industry Report" and found that 64% believe Google has essentially become the modern-day version of a business's "homepage" because of all the information they display about the business.
As it is, Google will automatically "localize" search results for certain searches, particularly when there is a city name in the search term (called a "geo-modifier"), or for keywords that refer to a service business.
For example, when I type "plumbers" I get a listing of three plumbers near me along with local map (this is after the paid listings):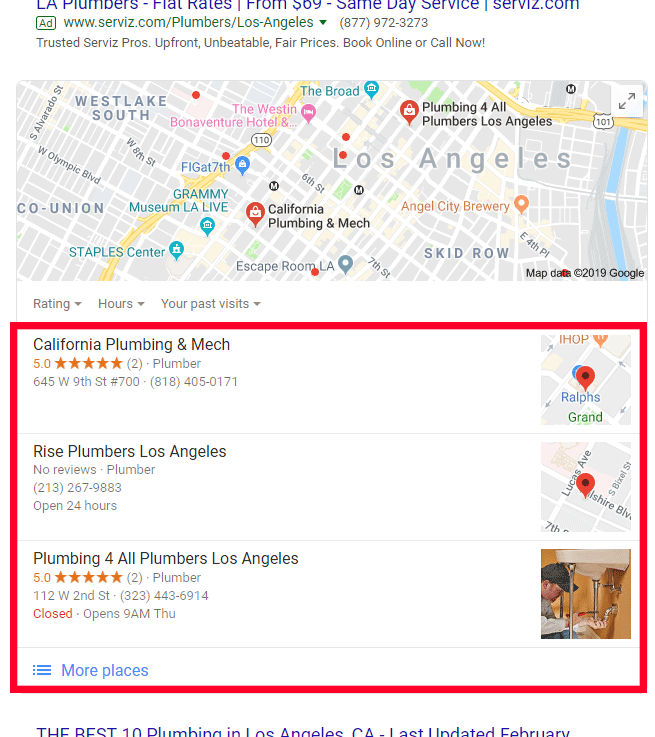 How do you land in one of those three spots (the "local pack"), or at least rank well in the listings that appear when "More places" is clicked? Local SEO.
Local SEO relies on the same principles as non-local SEO—on-page SEO, technical SEO and link building—but adds a few elements to provide the search engine with "signals" as to why your business should be listed in the local search results. These include:
Optimizing on-page content to indicate locality; for example, a page "your-url.com/los-angeles-plumbers" with specific use of "Los Angeles plumbers" as the target keyword
Adding location information to "structured data" (schema.org markup) on your website pages
Creating a complete Google Business Profile
Listing with local directories, making sure to keep name, address and phone number ("NAP") information perfectly consistent (inconsistency will hurt ranking)
It helps to perform an audit of your NAP information to make sure everything is consistent. One tool to use is Moz Local
Acquiring reviews of your business
Social media engagement
According to a case study by Moz the following are local ranking factors for those top 3 positions below the map: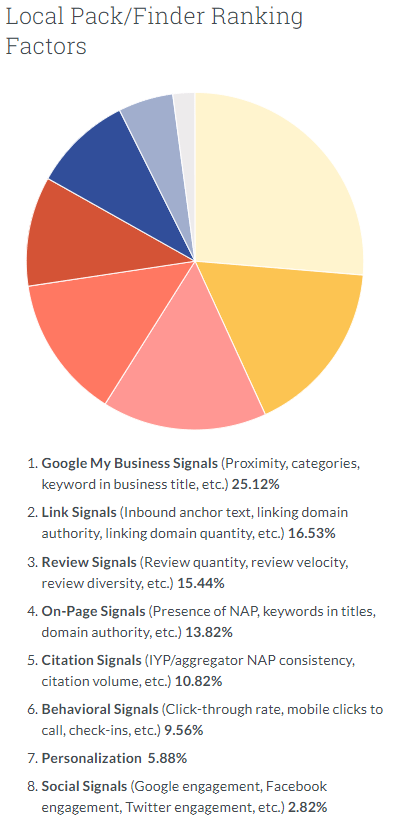 As you can see, "Google My Business Signals" (optimizing your Google My Business profile) is the #1 factor, but "Link Signals" (backlinks) is almost equally important, as is on-page SEO.
And when it comes to the organic (unpaid) listings that follow the map and 3-pack list of businesses, those factors look like this: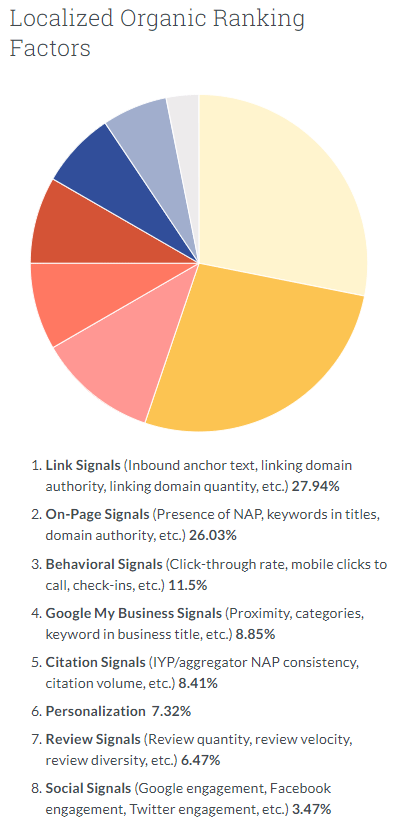 Again, "Google My Business Signals" is significant, but now backlinks, on-page SEO, and analytical metrics that show website visitor engagement ("Behavioral Signals"). Overall, these ranking factors look much like general search engine ranking factors, with a "local" twist to the targeted keywords.
Here are a few additional resources that can provide more information:
SEO and Reputation Management
Among the factors influencing SEO—and Local SEO in particular—is acquiring reviews. They're also important for reputation management overall.
However, reviews may not be realistic or necessary for some businesses.
Take Brass Ring Consulting Group as an example. For many years we got business by word-of-mouth. Much of our past work involved long-term engagements with large organizations. Most of the executives we work with aren't submitting reviews on Google for every business they engage with.
But for many businesses reaching out beyond word-of-mouth or their cultivated business network, starting the process of collecting reviews is important. Having a Google Business Profile is one important place for reviews. Some businesses will benefit from a presence on social media, or business directory sites like Yelp. Other businesses will benefit from a presence on rating websites like TrustPilot.
Besides giving positive SEO signals to search engines, having an easily accessible review system for customers helps to maintain a positive reputation online. You've seen those businesses with just a handful of reviews, where one negative review has an exaggerated impact on overall rating. Having a steady stream of reviews will avoid this situation. So it's important to build mechanisms to prompt customers with positive experiences to leave reviews -- and make the process as easy and frictionless as possible.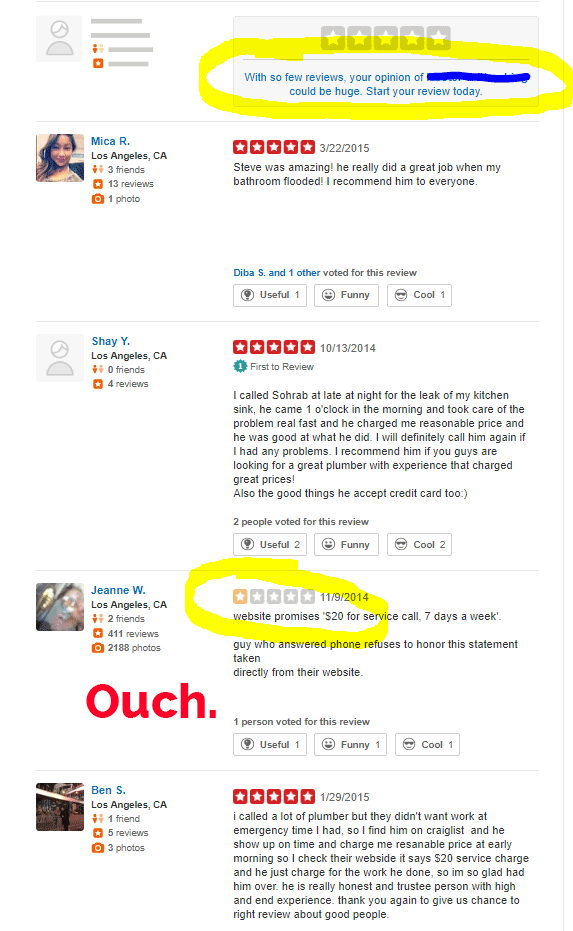 Drawbacks to SEO
SEO isn't the best "primary" strategy for every business, especially those needing to get their products or services to market quickly, or for businesses whose products or services are not intended to provide a solution to a problem or fulfill a need. Instead, SEO is best used to varying degrees as one component of a broader marketing plan.
For example, a record label (music company) will find less value in a strong SEO campaign than, say, a financial services firm.
The record label might place more emphasis on social media / influencer marketing, video, digital banner ads and email marketing to get the word out about its music artists' album releases and touring schedules. Still, they'll want to make sure their website is SEO-friendly, so that people searching for one of their music artists can be guided to their site.
On the other hand, the financial services firm might pursue a local SEO strategy, with SEO-connected content marketing that relies heavily on blog articles showcasing their expertise and thought-leadership (in addition to other marketing).
Since it takes consistent effort over time, SEO certainly does not yield immediate results. Instead, paid solutions like SEM / PPC ("search engine marketing" or "pay-per-click" ads) will get immediate click-through to your website or landing pages. This is especially significant for startups and those businesses whose products appeal to current, fast-changing trends.
However, businesses with a long-term plan should consider getting started with consistent ongoing effort early-on—even if it's not a major part of the overall marketing plan. This will ensure a steady build of essentially "free" organic search traffic to your website to help defray the cost of paid advertising solutions. In time, organic search traffic may be all you need.
Our recommendation is that businesses not rely too heavily on SEO for revenue.
Search engines don't make money on "organic" search traffic, although the majority of click-through on their search results pages is for organic results. Over time, we've seen Google placing more emphasis on paid ads over organic search results. Notice how all paid results are shown "above the fold":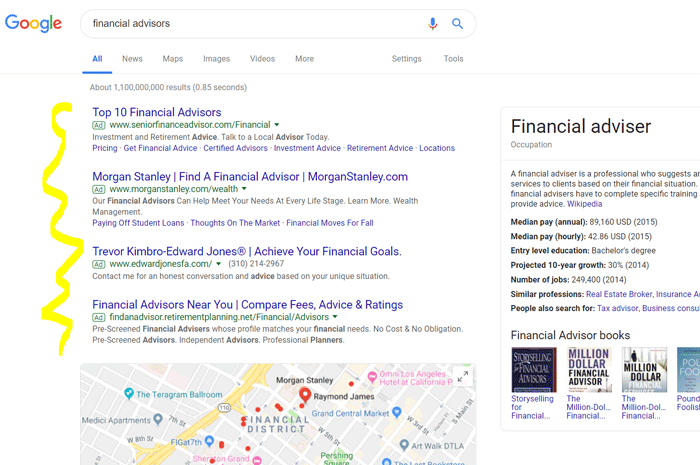 Another consideration is the impact of changes to search engine ranking algorithms. Each year, Google makes hundreds of tweaks to its algorithm, some more significant than others. Businesses that rely too heavily on search engine ranking could be impacted negatively if an algorithm change suddenly causes their ranking to drop.
When SEO is a more prominent part of your company's marketing plan, quality SEO work will be more resistant to the uncertainty caused by algorithm changes. Still, the focus should be on solving people's challenges or fulfilling a need in the market—not whether your website shows up on page 1 of Google search results—and "organic" traffic will find you as a result.
NOW THAT YOU KNOW MORE ABOUT SEO...
It's a complicated subject with many moving parts. Knowing how it works is useful, but you might need help executing an SEO strategy. We're here for you! Brass Ring Consulting Group has expertise in SEO marketing. Contact us today for a free consultation!