Think of a marketing automation platform ("MAP") as the single "control center" for all your marketing-related functions—capturing and scoring leads, tracking website interactions, composing and sending marketing emails, building landing pages, A/B testing and dynamic content, maintaining your blog and social media content calendar, and providing all the related analytics for reporting.
The sophistication of marketing automation platforms varies considerably, but the ideal MAP should integrate with your other sales and marketing tools, such as CMS, CRM, social media accounts, ad platforms, and scheduling software.
In fact, you'll find many marketing automation features built-in to the most popular CRM platforms -- such as Hubspot, SharpSpring and Salesforce.  Website platforms like Wordpress and Drupal have sophisticated plugins to handle marketing automation. Even many email service providers with CRM-like features (like Mailchimp) offer ways to automating your messaging.
Of course, "marketing automation" is a subject as broad as marketing itself, and no one platform has a "market" on marketing capabilities. The most powerful marketing automation platform is one that has no restrictions on executing whatever is most useful for your business -- and that may mean custom development work.  
While marketing automation has become mainstream, surprisingly only 51% of businesses on average are currently using the technology.
In fact, UK-based consultant Kinetic Marketing found in a 2018 study that 25% of respondents weren't sure what marketing automation is.
We'll briefly touch on what marketing can do for you while revealing some challenges companies face in starting and managing an automation strategy. We'll also help you determine if you're ready to bring marketing automation into your organization.
Objectives of Marketing Automation
According to a 2017 study by Adestra titled "State of Marketing Automation Benchmarks for Success", there are seven primary objectives of a marketing automation strategy:
Optimize productivity (43%)
Increase marketing ROI (41%)
Improve campaign management (40%)
Improve database quality (39%)
Acquire more customers (39%)
Measure performance (37%)
Align Marketing and Sales (24%)
While other studies reveal similar results, we see "Align Marketing and Sales" climbing in importance as MAPs become more integrated with sales systems.
From our perspective, alignment between Marketing and Sales efforts should be closer to the top of the list, as MAPs benefits both camps. As Marketers, our #1 objective with MAPs is: "Deliver more qualified leads to help Sales work better."
Most businesses have a "triangle" of demands:
Sales hounds Marketing for more leads in the pipeline
Marketing comes down on Sales for not closing the leads they worked hard to provide
Leadership demands more leads and more closed sales—with less budget
When properly set-up, marketing automation can provide a win-win-win on all three sides:
Sales is handed more qualified leads, resulting in a better close ratio
Marketing is empowered to deliver more leads with fewer resources
Leadership sees cost efficiency in Marketing and more revenue from Sales
What can Marketing Automation Do for You?
If you're engaging in any form of inbound marketing, a marketing automation system can be a huge help in executing your strategy.
As you scale your marketing, there comes a point where using a robust marketing automation system will improve efficiency and give your sales efforts a big shot in the arm; in fact, without it you might find scaling your marketing to be far too costly, if not outright impossible.
Overall, a MAP will help both Marketing and Sales do their jobs better. SmartInsights took a deep dive into the benefits with a 2017 study titled "Managing B2B Marketing Automation" (much of this also applies to B2C uses of automation):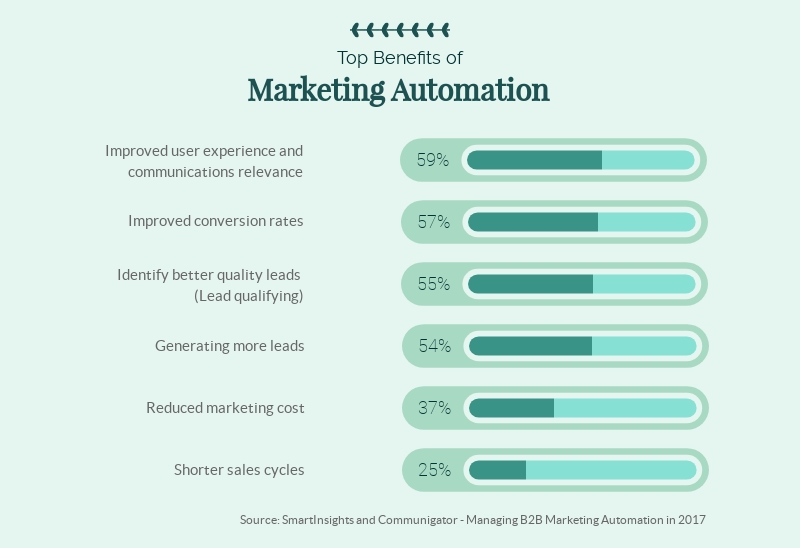 And according to a 2015 VB Insight report ("Marketing Automation, how to make the right buying decision"), 80% of MAP users saw the number of leads increase, and 77% saw the number of conversions increase.
Aside from improving lead generation and conversion rates, most significant for B2B and B2C businesses is how a marketing automation platform can improve the user experience for website visitors.
A robust MAP enables you to deliver more targeted, relevant experiences to your website visitors and customers, particularly if your MAP integrates with your CRM system (or has one built-in).
One common feature of a comprehensive MAP is the ability to track user interaction and then deliver more personalized, relevant content based on those interactions via email and on website pages.
For example, SharpSpring (among other CRM systems) provides a powerful "life of the lead" feature which shows each user's timeline of interactions with your business.

Over time, this tracking feature can be used to capture more information about a lead so your CRM database is kept up to date. For example, if a lead returns to your website and enters a new phone number into a form, you can automatically update that phone number in your CRM.
User tracking also allows MAPs to "score" leads based on their engagement. This helps inform your Sales team when a lead is more likely to transact.
In fact, some MAPs (like SharpSpring and Hubspot) allow you to alert the Sales team to the actions of a specific user action in real-time so they can reach out at the ideal moment.
Another big advantage of MAPs is the ability to automate quick follow-up with leads.
A Harvard Business Review study showed that you're 60x more likely to qualify a lead if you follow-up within one hour.
With marketing automation in place, you can automate that follow-up to occur as soon as the prospect submits their information into your web form—whether that's at 3am on a Saturday or during normal business hours.
There's so much more you can do with marketing automation. Download our Marketing Automation Playbook for a deeper dive.
Challenges to Starting and Managing Marketing Automation
Regardless of the clear benefits, getting started with marketing automation—and managing it going forward—can be challenging for some organizations. There is a level of strategy, commitment and buy-in your organization needs to have to get the most out of it.
According to a 2017 study from Liana Technologies ("The benefits and challenges of marketing automation"), the top 5 reasons why companies haven't started with marketing automation include:
Lack of expertise / know-how (55.6%)
Lack of human resources (48.1%)
Lack of marketing automation strategy (33.5%)
Lack of financial resources (31.6%)
Insufficient customer data (21.1%)
For these reasons, it's helpful to engage with a marketing consultant who can provide the expertise and resources to get you up and going with a solid strategy.
Once your MAP system is in place, challenges to managing an automation strategy include the following: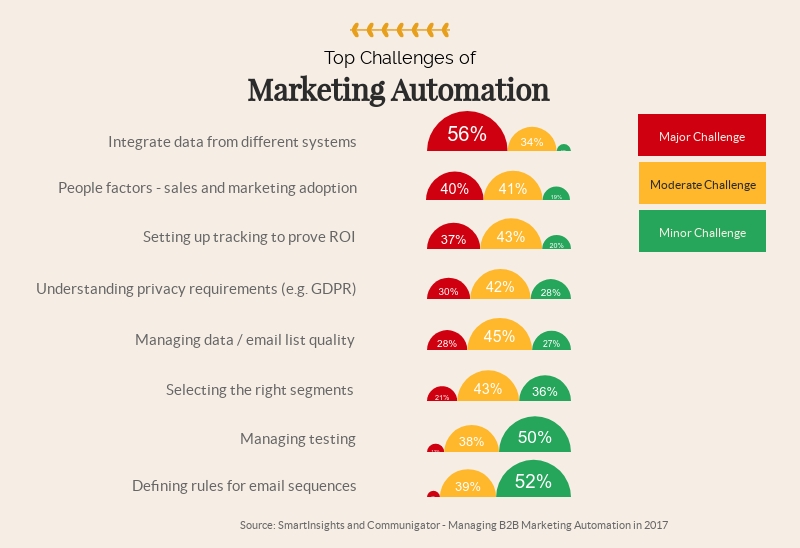 11 Key Questions to Ask About Marketing Automation
Picking the right MAP can be overwhelming. Here are a few key points to consider during your evaluation:
Are the key features you need included?
Don't pay more for features you aren't going to use. Know what you really need, and make sure the platform you select delivers on those.
How long is the contract?
Ask if you have to sign a quarterly, annual or other long-term contract. You should be able to cancel at any point if you don't feel like the platform is the right fit for your business.
What are the payment terms?
You shouldn't have to take out a mortgage to get started. Some vendors require full payment upfront—tying up valuable marketing dollars that could otherwise be spent on execution. Look for a provider that offers month-to-month billing and no long-term contract.
Are you looking at both price and the total cost of ownership?
Don't be enticed by lower tiers that limit functionality. You'll want the full power of marketing automation once you get started, and third-party add-ons for specific features add to the total cost. Also, pay attention to the limits. If a lower tier has limits on contacts and sending, think of how often you'll have overages, especially if your business is in a growth phase.
What's the word on the street?
There are several great sites where you can go to hear what actual users are saying about the various platforms on the market. These independent review sites, like TrustRadius, MarTech, Capterra and others, allow you to get insights that professional reviewers just don't have.
Is it an "open" or "closed" platform?
An open system allows you to use any CRM, content management system, blogging tool, landing page builder, forms builder, etc. Be wary of a closed system—it can cost you more in the long run, especially if you decide to leave.
Are there integrations available to work with the tools you already use?
Look for a platform with its own "ecosystem" of providers that it integrates with—either natively, through plug-and-play, or using a provider like Zapier or PieSync. This will allow you to seamlessly extend the power of your investment and lower the total cost of ownership. In cases where integrations don't yet exist, does the platform have a robust set of APIs so developers can build custom integrations?
Do the built-in analytics meet your business needs?
Choose a solution that provides clear, concise reports that show the end-to-end ROI you're looking for on your marketing and sales efforts. Ask to see a sample and shop it around internally to make sure it's going to be impactful.
Can you get up and running quickly?
Look at the interface. Is it user-friendly? Is there contextual help (e.g. videos, virtual tours, articles) available in case you get stuck? An intuitive platform will save you countless hours both upfront and long-term.
Is there quality support, both initially and ongoing?
Some providers hide fees here, so beware. Does the vendor provide comprehensive onboarding to give your team confidence in using the platform? If so, what's the cost? Is ongoing support unlimited and free, or are there caps and additional costs? And ask if you get a dedicated person you can call when support can't help.
What's the long-term outlook for the platform?
There have been some notable acquisitions in the marketing automation space recently. Be sure you are signing up with a vendor that is committed to your long-term success and is investing in platform innovation, support, and other services.
Are You Ready for Marketing Automation?
Marketing automation is a powerful tool to empower your Marketing and Sales teams but putting it in place is a big decision. Are you ready for it? Here are some factors to consider:
Do you have executive and organization-wide buy-in for marketing automation?
As with any potentially game-changing business system, you'll need to make sure there is full executive buy-in.
Do the Marketing and Sales teams seem disjointed?
One of the biggest advantages of a MAP is its ability to seamlessly connect Marketing and Sales teams.
Does the Sales team have trouble keeping track of leads, or are you seeing sub-optimal close rates?
In a non-automated organization, Marketing typically hands leads over to Sales that may not be fully qualified. What results is sub-optimal close rates and even general apathy on the Sales team. After all, who likes reaching out to an unreceptive prospect? Marketing automation can ensure Sales gets leads that are ready to buy.
Can you identify ways to automate some of your Marketing team's day-to-day tasks?
If your Marketing team finds itself manually handling tasks related to lead follow-up and management, content planning, and list segmentation for content delivery, a MAP is your solution.
Do you find yourself using a stack of different apps and software to help you manage your Marketing and Sales functions?
Rather than using a disparate set of tools that may not "talk" to one another, a robust MAP consolidates many functions into one united "control center."
How much time do you spend pulling data together to assess Marketing ROI?
Without a unified marketing system, reporting on the effectiveness of your marketing campaigns can be time consuming. A MAP greatly streamlines reporting and analysis on your ROI and saves considerable time.
Can you identify your most engaged customers?
For most organizations, the customer relationship (ideally) shouldn't end after a "one-off" transaction. A MAP can help you easily identify those customers who show more engagement than others and those who may be lapsing so you can act accordingly.
NOW THAT YOU KNOW MORE ABOUT MARKETING AUTOMATION...
Marketing automation is a huge step forward for most organizations. We hope this article sheds some light on its benefits. Reach out to us when you're ready to consider marketing automation or trade-up to a more powerful system—put our expertise to work for your business. Or download our free eBook, "The Marketing Automation Playbook" to learn more about what marketing automation can do for you.