In this particular case, our client had several challenges in an e-commerce model:
Markup the pricing to achieve a certain minimum profit margin;
Choose from multiple inventory sources for the same product -- some offering a commission on the sale with a suggested list retail price, some offering wholesale pricing to be marked-up at the company's discretion;
Cap the price markup not to exceed a certain level above the suggested list retail price;
Monitor the transaction funnel to ensure price markup is not negatively impacting the conversion rate (the percentage of users who complete the transaction);
Monitor competitor pricing to ensure price competitiveness.
Vendor Pricing Evaluation
Our first objective was to evaluate how competitively the suggested list retail pricing compared to the company's competitors. To complicate matters, we were evaluating real-time pricing on over 100,000 individual products — pricing that could vary from one day to the next. So it was important to acquire a reasonably-sized sample of product pricing from competitor websites, and then map that product pricing to our vendor's product set for an "apples to apples" comparison... and we needed to do this quickly, before pricing changed.
We created an automated system to acquire product description and pricing from competitor websites, then map this against our vendor pricing data. While we found that pricing deviated within an acceptable range, we still noted certain product categories where the competitor had a price advantage (or, in other cases, higher pricing). This would serve as valuable data in defining a range of competitive pricing, as well as informing future enhancements to the pricing model to allow for variation between product categories based on what the market could bear.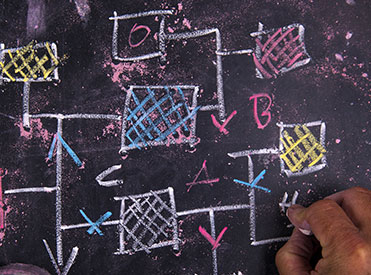 Evaluating The Pricing Algorithm In Action
Of course, prior to setting the pricing algorithm in motion, we set-up a system to monitor each step of the sales funnel — from search results, to product details, to payment, and finally, purchase confirmation. This allowed us to monitor the algorithm's effect on the conversion rate (the percentage of users who completed a transaction).
What we found was very positive. Before implementing the new pricing algorithm, the company relied on a static price markup model to achieve its profit margin. However, with the new algorithmic pricing model in place — and maintaining the company's desired target profit margin — the company saw a 32.7% increase in the number of completed transactions.
Future Applications
In the future, the pricing algorithm could easily be adapted to adjust the company's profit margin target depending on the product category. This way, the company could push overall profit margins further with product categories that could withstand a greater price markup without sacrificing conversion rate. After all, our initial competitive analysis suggested competitors may be doing the same.
There's always a way to improve YOUR profits! Get real results from true experts. Schedule a FREE consultation now.