First, consider the broad range of bike makes and models -- from the Honda CR125R to the Yamaha YZ450F to the Kawasaki KX250 to the KTM 300, limited edition models, and hundreds of other bike makes and models.
Then consider that each make and model has variations specific to particular years, sometimes ranging across decades.  For example, the Honda CR125R bike was in production from 1998 to 2007!
So put the hundreds of bike makes and models against 10 or more years of production, and you easily have a list of make-model-years that consists of over 1,500 bikes.  That can make searching for the right set of bolts to mount the carburetor on a 2001 Honda CR125R quite challenging.
Our client has just over 350 core OEM parts that each fit many particular makes and models.  Some parts may fit hundreds of bike make-model-years... other parts may fit thousands of bike make-models-years... and some parts may fit just a few bikes.
The problem is, if we want Google to understand that a part should appear in searches for, say, 200 different bike queries... and if we want the search results to reflect the SPECIFIC make-model-year of the bike... then we'd need to create over 200,000 individual products, each titled and described to reflect the specific makes, models and years they fit.  Once again, when someone searches Google for a "Front Brake Assembly for my 2002 Honda CR125R", we want Google to deliver a link to a product page SPECIFICALLY for a "2002 Honda CR125R Front Brake Assembly" (and not the part for the 2003, 2004 or 2005 model, or for another bike etc.).
Having a catalog of 200,000+ products is not feasible on many levels, not the least of which being inventory control.  Since a given part may fit thousands of individual bikes, it would be difficult if not impossible to synchronize inventory counts across thousands of "versions" of that part -- each being individual products in the catalog.
"Out Of The Box" Limitations
When it comes to e-commerce power, flexibility and the ability to be customized, the Woocommerce platform will perform very well "out of the box" for the majority of online stores.  But it does have limitations.  Fortunately, custom web development can overcome those limitations.
For example, when you consider this particular case, you have just 350 products -- that's a relatively small store for Woocommerce, and very easily managed with no impact to performance (website speed etc.). But when you start assigning of 1,500 product categories to many of the products, performance starts to suffer. And for e-commerce, sales are lost when pages take too long to load!
In our case, the best approach was to create a product category for each of the 1,500+ bikes for which there were parts.  Then, we'd assign the relevant categories to each product depending on which bikes the product would fit. That made it easier to find the right part to fit your 2002 Honda CR125R bike... as simple as querying "show me parts assigned to the category 2002 Honda CR125R".
But having SO many category assignments to products in the Woocommerce system naturally has a negative impact on performance -- it's just how Woocommerce and Wordpress are built. The way around these performance issues is
(a) "rewiring" the ways Woocommerce queries the database,
(b) introducing indexing and product lookup systems outside of the standard Woocommerce platform, and
(c) integrating aggressive page caching and object caching (Redis Cache).
So with performance issues under control, the bigger issue remained to be solved... how do we turn 350 products into 200,000+ individual, SEO-optimized product pages for Google to index and serve?
Woocommerce does have a "product variation" feature, but it's not suitable for this particular case.  Sure, it's great when you have t-shirts in Black, White and Navy Blue, and in sizes from Small to 4XL.  You would just assign product variations to your "parent" product.  But in this case, you simply can't have 1,500 different product variations (bike models) on a parent product. And even if you could, none of those product variations would appear to Google as a unique, SEO-optimized product page. Instead, all variations appear only under the page of the single parent product.
The Solution - Dynamically Generated Product Pages
To make each and every one of the 200,000+ product variations appear as standalone, SEO-optimized product pages, we built a custom extension of Woocommerce to dynamically generate individual product variation pages.
Each product variation page has its own unique SEO-friendly URL.
The content of each page is based on a template, but either dynamically "injected" with content specific to the bike make-model-year, or the template is overridden with content written specifically for the product variation by the store owner.
Price and product image could be set for each variation as well (or the default product price and image would be used).
Extensive SEO optimization of the page content ensured that each individual variation page would be recognized by search engines as its own standalone page to avoid "duplicate content" issues with SEO. This includes product-specific alt/title tags on images, image URLs that reflect the product variation, product-specific H1 and H2 tags, page metadata, reviews and much more -- everything that would go into a properly-optimized e-commerce product page.
Each page includes unique product and breadcrumb "structured data" to make the page easier for search engines to understand, and also encourages search engines to deliver "rich snippets" to enhance search listing appearance.
Each of the unique "variation page" URLs are included in the sitemap to ensure search engines recognizes all 200,000+ of the pages for search engine indexing.
The model for extending core products into category-based product variations looks like this: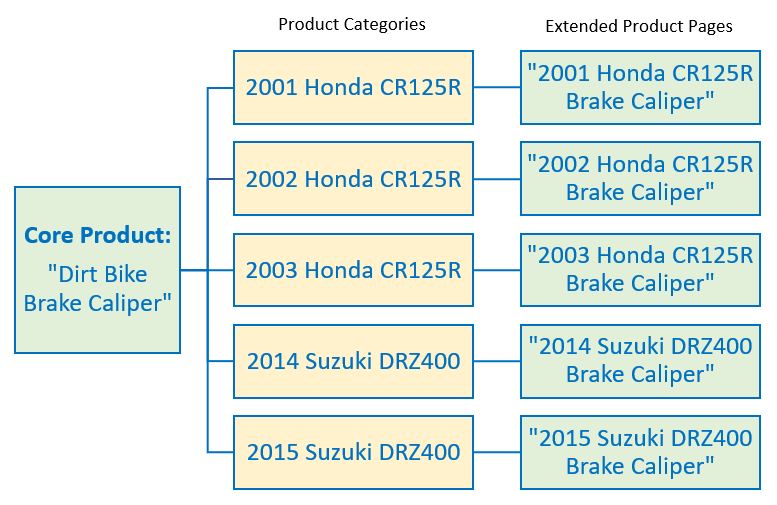 Making It Easier to Find Your Part
Now that we could "drill-down" to parts specific to a given bike make-model-year, we created a "Browse By Bike" user interface that made it simple for users to find parts for their specific bike.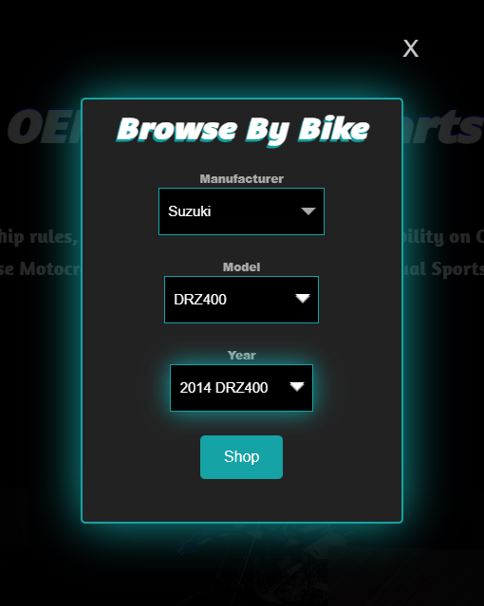 Extending the Reach of the Store
Next, we extended the reach of the store with XML product feeds for Google Merchant Center, Bing Merchants, Facebook and Pinterest. Every night, our system would dynamically build XML product feed files specific to each external shopping platform that consisted of all 200,000+ product titles, descriptions, prices, shipping costs, image links, SKU numbers, and more.  (No existing plugin could do this -- our work is all custom!)
This extension of the store to other shopping platforms resulted in tens of thousands of weekly "clicks" to product pages IN ADDITION TO the organic traffic we were aiming to grow.
The Results (Organic Traffic)
It takes a little time for search engines to crawl and interpret 200,000+ new product pages.  Most of the growth occurred over the course of 60 days.  But when looking at growth over a period of two fiscal quarters, the results speak for themselves: 197% increase in weekly ORGANIC page views, and a 227% increase in weekly ORGANIC users.  From Google Analytics...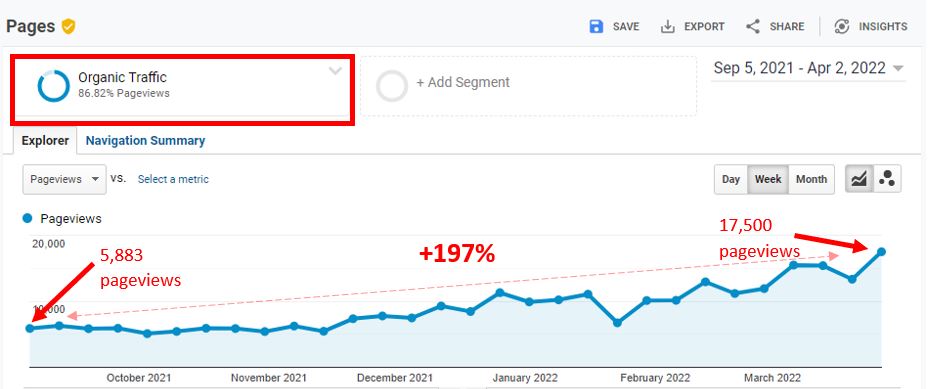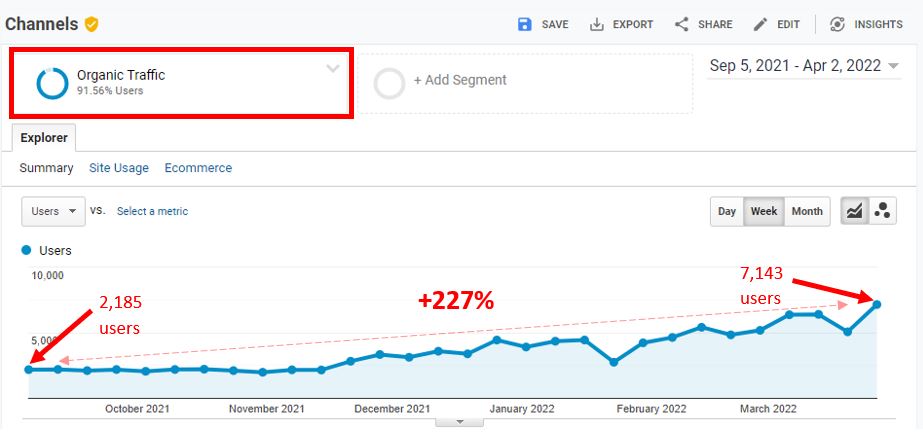 Thinking of building your own e-commerce store, or looking to grow your existing store's sales? Get real results from true experts. Schedule a FREE consultation now.